I saw the movie Wonder Woman last week. Raise your hand if you have seen this iconic heroine flick and nearly started crying or actually cried while watching the fight scenes. I certainly teared up…and more than once!!! As we walked out of the dark theater into the sunshine, I told my husband and son how I got weepy watching the strong women on-screen, and how exciting it was to see women kicking ass like that. Seeing women doing what I know women CAN do. I also thought about what could be with women in charge of the world. And knowing the film had a female director at the helm made it all even better. It was amazing and so exciting! I'm not the only one that saw it that way either. Click here, here, here and here where female writers recounted their tears while watching Wonder Woman.
My life experiences gave me another lens when I watched the Wonder Woman movie. I had a bright flash of recognition in those Amazons on the beach. Who did I see? I saw the Wonderful Women of the PANDAS/PANS Community reflected in the arrows and swords and punches being expertly delivered. We PANDAS/PANS Moms/Caregivers certainly take a lot of blows (some blows come from blowhards). We may not be physically fighting for our kids, but it can feel like it sometimes. The stress definitely takes a physical toll and leaves you worn out and fatigued and emotionally scarred. We've likely all taken verbal abuse that felt like you were being punched in the gut while you are advocating for your child. We've all had people shoot imaginary daggers at us with their looks too. Ugh.
I saw all of the Wonderful Women of the PANDAS/PANS Community reflected in how Diana prevails. As a little girl, she wants to learn to fight, so she learns to fight and then becomes the ultimate Warrior Princess. When she learns about the "War to End All Wars", she wants to go and put an end to it. When she gets to London, she says "TO THE WAR!", and then she does an about-face when Steve says they aren't going to the war just yet. Why not? That's why she's there…to go to the War. And that's what we do…we face trouble head on because there is no choice to hold back. It's our kids' health at stake. "TO THE HEALING!" we say, and we keep going no matter what.
I saw all of the Wonderful Women of the PANDAS/PANS Community when on the battlefield the men say "Diana, no!", but she ignores them and charges straight into battle because she HAS to help the people. We know in PANDAS/PANS Advocacy that we are fighting the fight for our kids AND the kids that will come after our kids. Getting an accurate diagnosis and appropriate treatment in a timely manner should not be as difficult as it still is today. It's getting a bit easier, but that's because of all the Advocacy and the new PANDAS/PANS Research. Ever been in the middle of a gripe session when somebody asks why you're fighting for all of this anyway? BECAUSE. WE. HAVE. TO. HELP. EVERYONE. ELSE. !!!!! There's absolutely no question about that! When a doctor or a teacher or anybody tells us "no", do we hunker down in the trenches? Ummm…hell no! We jump up with our sword and shield and keep going full force. It's what we do. We help. (gif from giphy)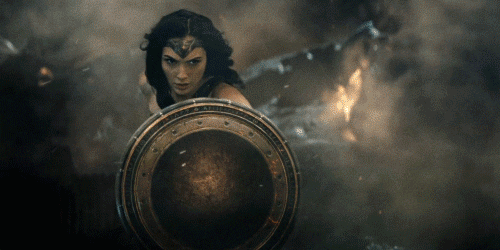 In the PANDAS/PANS Community, we all fight battles every single day. We battle doctors. We battle teachers. We battle insurance companies. We battle pharmacists. We battle our family members and friends. We battle microscopic bacteria and viruses. We battle test results We sometimes even battle our kids (sigh). We battle naysayers. But you know the best part about these daily battles? WE WONDERFUL WOMEN OF THE PANDAS/PANS COMMUNITY WIN!!! Woohoo! How are we winning the battles? By starting support groups or organizations and volunteering our time to help others going through PANDAS/PANS hell. By working to get state legislation passed so PANDAS/PANS that increases awareness and so treatments are covered by insurance. By sharing your stories and listening stories to show others that you understand. By answering questions from desperate Moms in online support groups. By not backing down when someone tells you no. By sharing research and articles and other resources relentlessly to get the word out there about PANDAS/PANS. YES, WE WONDERFUL WOMEN OF THE PANDAS/PANS COMMUNITY ARE WINNING THE BATTLES!!! But the real winners are the PANDAS/PANS Kids. We do it all for them. Thanks for all you're doing in the good fight. I salute you! Always remember that you are totally badass. Yeah? Badass!  (gif from giphy)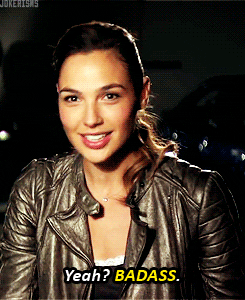 I will say that over the years, it's been the Wonderful Women of the PANDAS/PANS Community that have helped me the most in dealing with my son's condition. You help me by lending an ear when I need to vent, offering sage advice, and reading, supporting, and participating in the PANDAS Sucks blog and letting me give back in this way. All of you Wonderful Women let me know that whatever I'm going through that I am NEVER alone in any of this.
We might not get to wear snazzy outfits like Wonder Women, but we are all still extraordinary heroines giving hope and lifelines to others dealing with PANDAS/PANS. If I could, I'd hand out honorary swords, shields, and cool tiaras and bracelets to you all…the Wonderful Women of the PANDAS/PANS Community. A Lasso of Truth would come in handy too, eh? (gif from giphy) Love Fiercely! Be Savage! Stay Wild! Keep Winning Wonderfully, You Wonderful Women! <3
Love,
Tell us why YOU think PANDAS Sucks. Click here.
We post these reasons in a blog series.
Have YOU found a PANDAS Silver Lining? Click here.
Want to send a message to Sarah? Click here.
Sarah
 Jane Alleman is a PANDAS Mom to her awesome son, Jesse. She spends much of her time on Facebook, making to-do lists, and listening to music, especially Depeche Mode. She drinks a lot of coffee, likes a good red wine, and has been known to hide chocolate in her pantry. Sarah really thinks PANDAS Sucks (the autoimmune disorder, NOT the bears!).  PANDAS Sucks exists to tell the collective story about PANDAS/PANS. Sarah wants to empower other PANDAS Parents and let them know they're not alone. She is also the Director of Kentucky PANDAS/PANS Support, which strives for more awareness, support, and understanding of PANDAS/PANS. Sarah was a Parent Contributor to the book "PANDAS and PANS in School Settings" and a volunteer and technical adviser for the PANDAS/PANS documentary "My Kid Is Not Crazy." Find PANDAS Sucks on  Facebook, Instagram, Twitter, and Pinterest.
Note: Please do not ask for doctor referrals or specific medical advice. This blog/web site is for info and support purposes only. I'm not a doctor. 
©
PANDAS Sucks™
Comments
comments